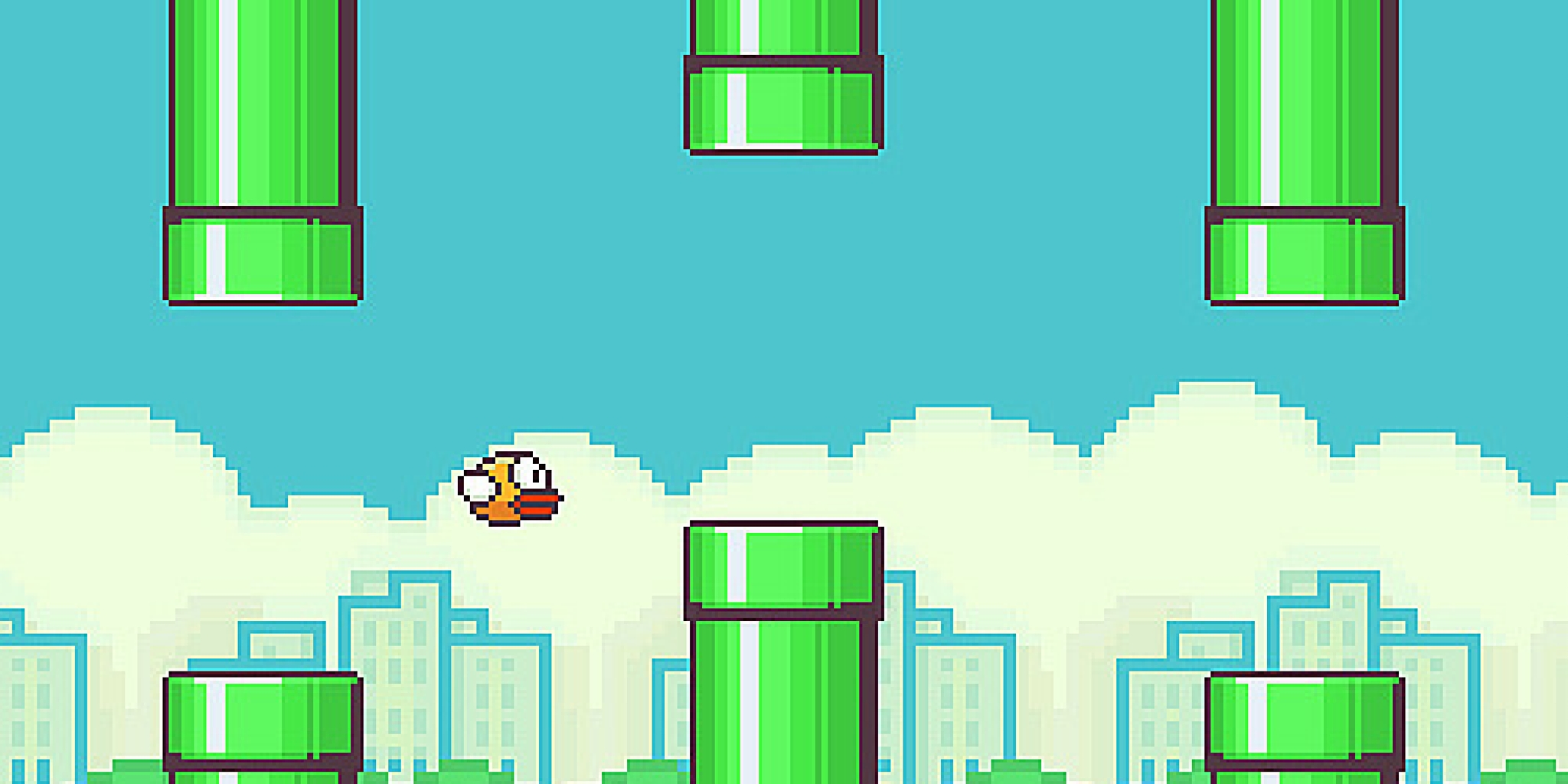 In 2013, Vietnamese game developer Dong Nguyen quietly released a mobile game called Flappy Bird.
It was a simple but extremely addictive app that involved navigating a cartoon bird through a series of neverending obstacles. The objective was to keep the bird afloat as long as possible.
According to Rolling Stone, Nguyen built it over the course of a holiday weekend. It wasn't his first game, but rather another project in a long line of flops. He didn't expect this one to be any different, and for a long time, it wasn't.
Then, one day, fortune struck. For months, Flappy Bird's small collection of players had been rage-posting their high scores on social media. The game was designed so that all the progress you've made can be wiped out with just one wrong move, which made making mistakes especially painful. And when players lost, they turned to Facebook and Twitter to vent, or on rare occasions, celebrate.
Eight months into Flappy Bird's launch, these passionate social media posts reached critical mass, catapulting the game to viral status. Not "viral" in the casual sense, but viral, as in 50 million-plus downloads and worldwide, chart-topping prestige.
Its success earned Nguyen a jaw-dropping payday. Monetized via in-app ads, Flappy Birds brought in a staggering $50,000 in revenue per day. The most amazing part? Aside from a single social media post announcing its launch, he had spent zero effort on marketing.
This is a true underdog story, especially for someone who came from a poor family, like Nguyen. But if you're tempted to chalk his success up to luck, you'd only be half right.
The truth is, whether it was conscious or not, Nguyen built Flappy Bird on a foundation that stacked the odds of virality in his favor. Let's take a look at how.
---
What Made Flappy Bird Special?
Here are four key takeaways.
1. Simplicity is addictive
In his interview with Rolling Stone, Nguyen traced Flappy Bird's inspiration to the Nintendo games he played growing up — specifically, their simplicity.
Struck by how complicated modern games were, he set out to build a game that could be played with one hand. The result? To play Flappy Bird, you only needed to do one thing: tap the screen.
This is a lesson that appears over and over again in business. Whether it's a video game, online store, or consulting service, the key to attracting customers is to make their experience frictionless.
The easier your product is to use, the more customers will want to return to use it again.
2. Free is contagious
Free breeds virality.
The easier it is for users to access your product, the more likely they are to share it with their friends and get them on board. This, in turn, raises your chances of going viral.
In simple terms, Flappy Bird's free-plus-ads model made it easy to acquire users. Who's going to say no to downloading that app all your friends are talking about when it costs nothing to check it out?
This is the same model email newsletters use to build massive subscriber bases. Most newsletters gladly send out their editions for free. Once they've built an audience, they can monetize through multiple streams, including ads, sponsorships, and premium tiers.
3. Nostalgia sells
Nguyen isn't shy about the fact that Flappy Bird's visual design was influenced by the early Nintendo era. But take a step back and you'll realize it's much more than just the Super Mario pipes and pixelated graphics.
Really, everything about the game is reminiscent of Nintendo, from its ridiculously simple playing style to its catchy sound effects. These were critical components to its success: in an era where games are built on futuristic graphics and complex gameplay, Flappy Bird succeeded because it fulfilled a desire for the good ol' days.
According to marketing genius Gary Vaynerchuk, this is the same reason throwbacks like sports cards and Pokemon are making a comeback. Nostalgia is a powerful motivator for consumers and must be taken seriously as a brand strategy.
4. Good products market themselves
Finally, the common thread that ties all of these elements together is that quality is the best form of marketing.
Without a good product, all the marketing tricks in the world won't help you sell. But make your product the best in the industry and your customers will do your marketing for you.
The fact that Nguyen spent $0 on marketing is exhibit A on why this works. He simply created a superior game, then gave it away. Because it was so sensationally addictive, the product marketed itself.
---
Epilogue
You may have noticed everything in the first section is worded in the past tense. That's because Nguyen deleted Flappy Bird several months after it went viral, citing concerns about his family's privacy, as well as ethical concerns that the game had become too addictive.
(Don't worry, he's still making money thanks to those who downloaded it before its demise.)
While some view this as tragic, I think it's a net win for Nguyen, who no doubt made enough money during the game's apex to be financially set for life.
Regardless, the real value here is the nuggets of marketing wisdom. One man showed everyone the power of simplicity. In a world filled with increasingly complex technology, that might be exactly the marketing angle your business needs to stand out